Family friendly

Helicopersightseeing

Hiking paths

For the adventurous

Local produce
Welcome to Kinsarvik Camping - your destination for unforgettable experiences by the majestic Hardangerfjord. Our campsite, nestled in scenic surroundings, offers you the opportunity to blend the breathtaking nature with modern conveniences.
At our place, our guests can enjoy a wide range of amenities, including well-equipped cabins, spacious camping areas for RVs and tents, as well as modern sanitary facilities ensuring a comfortable stay. For those who love an active holiday, we are an ideal starting point for exploring some of Norway's most famous hiking trails, including the Queen's Trail and the Monk's Stairs.
In addition to our fantastic location, we cultivate a family-friendly atmosphere with playgrounds and barbecue areas, perfect for relaxing moments with family and friends. By choosing to stay with us, you've also chosen a campground that is committed to environmental responsibility.
For those looking to explore the region, our campsite is strategically located near several popular attractions, including Hardangervidda National Park, Vøringsfossen waterfall, and historical gems like Kinsarvik Church, a stone church with roots dating back to the 1050s.
Plan your next adventure with us, where you can experience the incredible nature of Hardanger combined with modern comfort and hospitality. Book your stay today and discover why so many choose to return year after year.
Cabins: 25
Explore our range of accommodation
Site map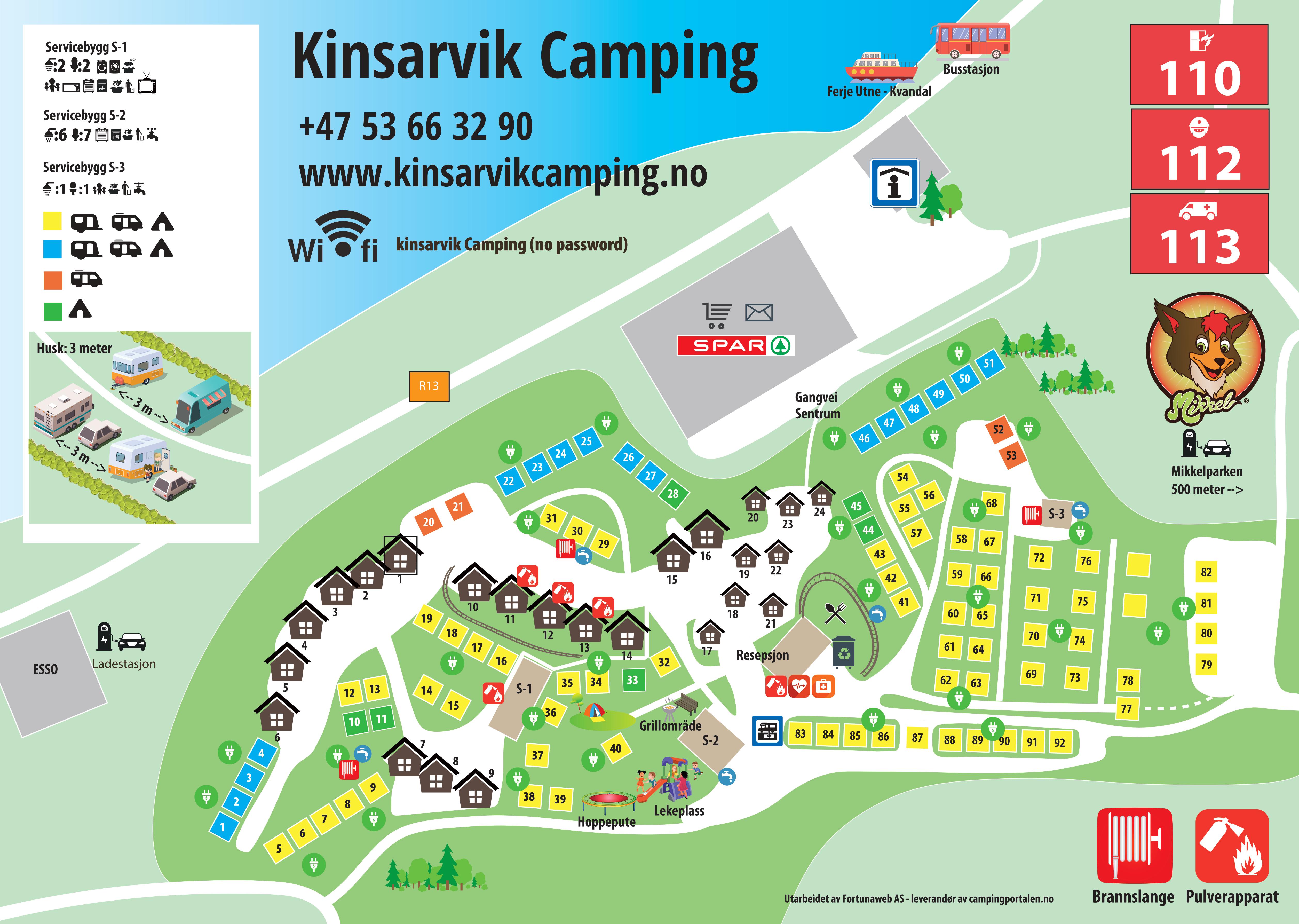 Restaurant & Bar
Free Wi-Fi
Laundry Facilities
Kiosk
Boat Rentals
Playground
Game Room
Sauna
Hiking Trails
Electric Vehicle Charging
Pet-Friendly
Walking Paths
Greywater Disposal
Water/Sewer Connection
Close to Downtown
Mountains
Fjord Views
Exciting experiences nearby
Visit Kinsarvik Camping on